Do you need help keeping positive? Here are 100 inspirational quotes to keep positive. Reading and adopting these quotations to keep your mind focused on what really matters in life. Employing negative thinking is never a helpful way to solve a problem. Instead, take some advice from some of the most successful people in a range of occupations about why it is important to keep positive.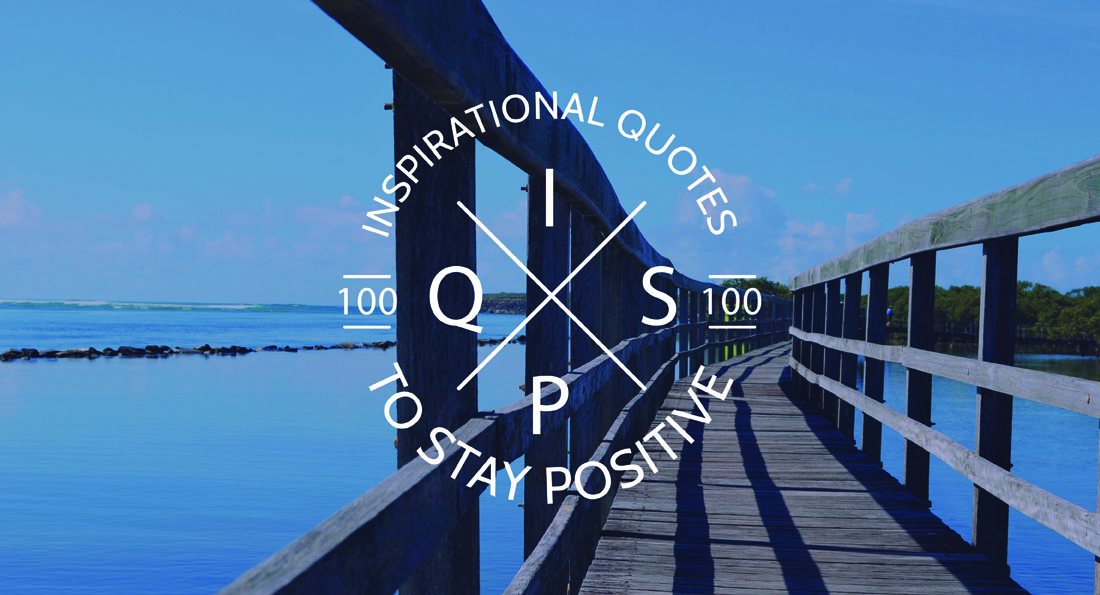 1.
The question isn't who is going to let me; it's who is going to stop me.
Ayn Rand

---
2.
Yesterday is not ours to recover, but tomorrow is ours to win or lose.
Lyndon B. Johnson
---
3.
The greatest obstacle to discovery is not ignorance – it is the illusion of knowledge.
Daniel J. Boorstin
---
4.
In order to carry a positive action we must develop here a positive vision.
Dalai Lama
---
5.
I believe that you should gravitate to people who are doing productive and positive things with their lives.
Nadia Comaneci
---
6.
Many of life's failures are men who did not realise how close they were to success when they gave up.
Thomas Edison
---
7.
Correction does much, but encouragement does more.
Johann Wolfgang von Goethe
---
8.
The best thing about the future is that it only comes one day at a time.
Abraham Lincoln
---
9.
Once you replace negative thoughts with positive ones, you'll start having positive results.
Willie Nelson
---
10.
I am the greatest, I said that even before I knew I was.
Muhammad Ali
---
11.
The crisis of yesterday is the joke of tomorrow.
H. G. Wells
---
12.
A happy person is not a person in a certain set of circumstances, but rather a person with a certain set of attitudes.
Hugh Downs
---
13.
My dear friend, clear your mind of cant.
Samuel Johnson
---
14.
Believe that life is worth living and your belief will help create the fact.
William James
---
15.
To succeed, you need to find something to hold on to, something to motivate you, something to inspire you.
Tony Dorsett
---
16.
If you're going to be able to look back on something and laugh about it, you might as well laugh about it now.
Marie Osmond
---
17.
The happiest of people don't necessarily have the best of everything; they just make the most of everything that comes along their way.
Unknown
---
18.
Remember that happiness is a way of travel, not a destination.
Roy Goodman
---
19.
Pessimism leads to weakness, optimism to power.
William James
---
20.
A mediocre idea that generates enthusiasm will go further than a great idea that inspires no one.
Mary Kay Ash
---
21.
Every day brings new choices.
Martha Beck
---
22.
Positive feelings come from being honest about yourself and accepting your personality, and physical characteristics, warts and all.
Willard Scott
---
23.
I let that negativity roll off me like water off a duck's back. If it's not positive, I didn't hear it.
George Foreman
---
24.
Whether you think you can or think you can't, you are right.
Henry Ford
---
25.
If it's great stuff, the people who consume it are nourished.
Manuel Puig
---
Find daily inspiration by choosing one of these quotation books to take home.
---
26.
Sometimes the most positive thing you can be in a boring society is absolutely negative.
John Lydon
---
27.
If you want to test your memory, try to recall what you were worrying about one year ago today.
E. Joseph Cossman
---
28.
If you're not making mistakes, then you're not doing anything. I'm positive that a doer makes mistakes.
John Wooden
---
29.
There is nothing either good or bad, but thinking makes it so.
William Shakespeare
---
30.
It's not who you are that holds you back, it's who you think you're not.
Unknown
---
31.
The joy of life comes from our encounters with new experiences, and hence there is no greater joy than to have an endlessly changing horizon, for each day to have a new and different sun.
Christopher McCandless
---
32.
Positive thinking is more than just a tagline. It changes the way we behave.
Harvey Mackay
---
33.
It takes but one positive thought when given a chance to survive and thrive to overpower an entire army of negative thoughts.
Robert H. Schuller
---
34.
If you don't think every day is a good day, just try missing one.
Cavett Robert
---
35.
Too many people miss the silver lining because they're expecting gold.
Maurice Seitter
---
36.
In the long run the pessimist may be proved right, but the optimist has a better time on the trip.
Daniel L. Reardon
---
37.
My optimism wears heavy boots and is loud.
Henry Rollins
---
38.
Things turn out best for people who make the best of the way things turn out.
John Wooden
---
39.
I've had a lot of worries in my life, most of which never happened.
Mark Twain
---
40.
To different minds, the same world is a hell, and a heaven.
Ralph Waldo Emerson
---
41.
No matter what the situation, remind yourself : I have a choice.
Deepak Chopra
---
42.
When push comes to shove, it ain't the science that's going to lift you up – it's the belief.
Kirstie Alley
---
43.
The person who can bring the spirit of laughter into a room is indeed blessed.
Bennett Cerf
---
44.
In every day, there are 1,440 minutes. That means we have 1,440 daily opportunities to make a positive impact.
Les Brown
---
45.
One of the secrets of life is to make stepping stones out of stumbling blocks.
Jack Penn
---
46.
I always like to look on the optimistic side of life, but I am realistic enough to know that life is a complex matter.
Walt Disney
---
47.
Worrying is like a rocking chair, it gives you something to do, but it doesn't get you anywhere.
Unknown
---
48.
No pessimist ever discovered the secret of the stars, or sailed to an uncharted land, or opened a new doorway for the human spirit.
Helen Keller
---
49.
What we see depends mainly on what we look for.
John Lubbock
---
50.
The difference in winning and losing is most often not quitting.
Walt Disney
---
If you enjoy reading inspirational quotations to stay positive, then you will love these products.
---
51.
If you don't like something change it. If you can't change it, change your attitude. Don't complain.
Maya Angelou
---
52.
People with many interests live, not only longest, but happiest.
George Matthew Allen
---
53.
Do not spoil what you have by desiring what you have not; but remember that what you now have was once among the things only hoped for.
Epicurus
---
54.
Always turn a negative situation into a positive situation.
Michael Jordan
---
55.
Clear your mind of can't.
Samuel Johnson
---
56.
He who has so little knowledge of human nature as to seek happiness by changing anything but his own disposition will waste his life away in fruitless efforts.
Samuel Johnson
---
57.
Don't cry because its over, smile because it happened.
Unknown
---
58.
Happiness is not a goal, but a by-product.
Eleanor Roosevelt
---
59.
The rainbows of life follow the storms.
Unknown
---
60.
The best revenge is massive success.
Frank Sinatra
---
61.
No one can make you feel inferior without your consent.
Eleanor Roosevelt
---
62.
Courage is resistance to fear, mastery of fear — not absence of fear.
Mark Twain
---
63.
Twenty years from now, you will be more disappointed by the things that you didn't do than by the ones you did do.
Mark Twain
---
64.
The No. 1 reason people fail in life is because they listen to their friends, family, and neighbors.
Napoleon Hill
---
65.
I've learned that people will forget what you said, people will forget what you did, but people will never forget how you made them feel.
Maya Angelou
---
66.
You never regret being kind.
Nicole Shepherd
---
67.
You're happiest while you're making the greatest contribution.
Robert F. Kennedy
---
68.
Boredom is the feeling that everything is a waste of time…serenity, that nothing is.
Thomas Szasz
---
69.
Keep your fears to yourself, but share your courage with others.
Robert Louis Stevenson
---
70.
If we all did the things we are capable of, we would astound ourselves.
Thomas Edison
---
71.
You get in life what you have the courage to ask for.
Nancy D. Solomon
---
72.
If you spend your life trying to be good at everything, you will never be great at anything.
Tom Rath
---
73.
Silent gratitude isn't very much to anyone.
Gertrude Stein
---
74.
Never doubt that a small group of thoughtful, committed citizens can change the world. Indeed, It is the only thing that ever has.
Margaret Mead
---
75.
Positive defaults protect you from yourself – and that helps you to make decisions in the moment that are better for your long-term interests.
Tom Rath
---
If you know someone who loves inspirational quotations choose one of the gifts below.
---
76.
Whatever you are, be a good one.
Abraham Lincoln
---
77.
If you dream it, you can do it.
Walt Disney
---
78.
Never, never, never give up.
Winston Churchill
---
79.
Don't wait. The time will never be just right.
Napoleon Hill
---
80.
If not us, who? If not now, when?
John F. Kennedy
---
81.
Turn your wounds into wisdom.
Oprah Winfrey
---
82.
It is not easy to find happiness in ourselves, and it is not possible to find it elsewhere.
Agnes Repplier
---
83.
Know thyself means this, that you get acquainted with what you know, and what you can do.
Menander
---
84.
Our business in life is not to get ahead of other people, but to get ahead of ourselves.
Maltbie D. Matlock
---
85.
As the sculptor devotes himself to wood and stone, I would devote myself to my soul.
Toyohiko Kagawa
---
86.
It is only the very wisest and the very stupidest who cannot change.
Confucius
---
87.
A leader is a dealer in hope.
Napoleon
---
88.
When one door closes another door opens; but we so often look so long and so regretfully upon the closed door, that we do not see the ones which open for us.
Helen Keller
---
89.
Any positive emotion that you're infusing into a workplace needs to be grounded in reality. If it's not realistic, sincere, meaningful, and individualized, it won't do much good.
Tom Rath
---
90.
Happiness is where we find it, but very rarely where we seek it.
J. Petit Senn
---
91.
We are all here for some special reason. Stop being a prisoner of your past. Become the architect of your future.
Robin Sharma
---
92.
You yourself, as much as anybody in the entire universe, deserve your love and affection.
Buddha
---
93.
If you want light to come into your life, you need to stand where it is shining.
Guy Finley
---
94.
Positive thinking will let you do everything better than negative thinking will.
Zig Ziglar
---
95.
A strong, positive self-image is the best possible preparation for success.
Joyce Brothers
---
96.
There is no failure. Only feedback.
Unknown
---
97.
I'm an un-healable positive optimist.
Andre Rieu
---
98.
All things are difficult before they are easy.
Thomas Fuller
---
99.
If you can change your mind, you can change your life.
William James
---
100.
I may not have gone where I intended to go, but I think I have ended up where I needed to be.
Douglas Adams
---
For more positive quotations for inspiration, choose one of the books below.
---
Republished by Blog Post Promoter